<< Back to main
Spring CSA Newsletter Week 10
Posted 4/10/2017 1:47pm by Caroline Cicatko.
Check Out What's In Your Share
Traditional Regular Share~
Asparagus, Strawberry, Red Radish, Sweet Potatoes, Red Potatoes
Traditional Large Share~
Asparagus, Strawberry, Red Radish, Sweet Potatoes, Red Potatoes, Leeks, Jar Good



Item of the Week: Strawberries
Strawberry season is here!! Strawberries are believed to reduce the risk of heart disease and certain cancers. They are low in calories and high in vitamins C, B6 and K. Strawberries also contain high levels of nitrate. Strawberries are consumed in very large quantities. They are used widely in many kinds of food. They are a great addition to any desert, not adding only color but a refreshing, sweet taste!
Don't Let Your Produce Spoil, Here's Some Simple Storage Tips
Asparagus:

Trim the edges of the asparagus, store upright in the refrigerator in a container with water filled up about an inch in it, continuously change water when it starts to become cloudy.

Strawberries

: Store cut and washed in a container in the refrigerator.

Red Radishes

:

Chop off the leaves and

store unwashed in the refrigerator until ready to use. They will last up to 2 weeks in a bag in the refrigerator.
Sweet

Potatoes

: Avoid storing sweet potatoes in the refrigerator, instead store in a cool and dry place.
Red Potatoes

: Store in a cool and dry place.
Leeks:

Refrigerate in a plastic bag, do not wash until ready to use.
Yummy Recipes for Your Fresh Produce
Stuffed Strawberries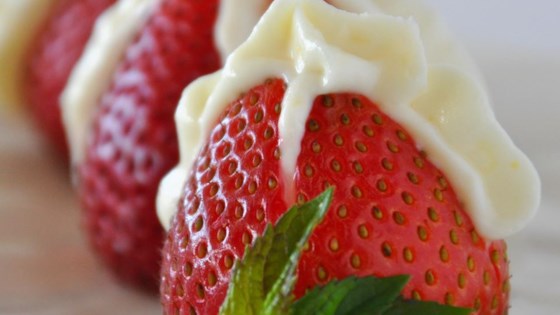 1 pint fresh strawberries
1 (8 ounce) package cream cheese, softened
1/2 cup confectioners sugar, or more to taste
2 tablespoons orange flavor liqueur, or more to taste
Cut the tops off of the strawberries and stand upright on the cut side. Make a cut 3/4 of the way down from the tip of the strawberry towards the bottom.

Beat together the cream cheese, sugar, and liqueur until smooth in a mixer or a food processor. Place into a piping bag with a star tip. Pipe into each strawberry and arrange on a serving platter.
Parmesan Asparagus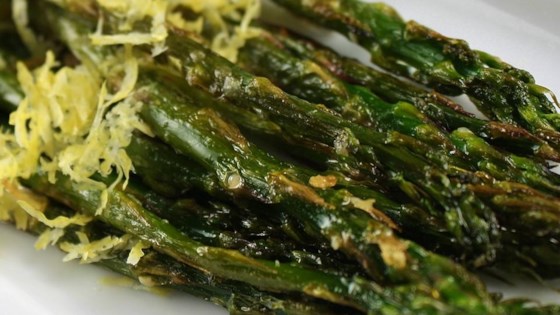 10 fresh asparagus spears, trimmed
cooking spray
1 tablespoon grated Parmesan cheese
1/8 teaspoon garlic salt
Preheat oven to 400 degrees F (205 degrees C). Grease a baking sheet with cooking spray.

Lightly coat asparagus with cooking spray; place on prepared baking sheet. Combine Parmesan cheese and garlic salt in a small bowl; set aside.

Bake in preheated oven for 6 minutes; turn asparagus and continue baking until tender, about 6 minutes.

Sprinkle Parmesan cheese mixture over asparagus.
Pan Fried Radish Cakes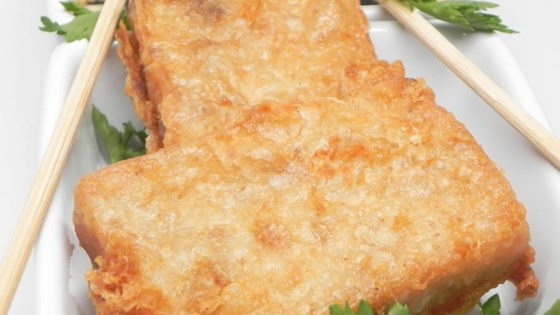 1 1/2 cups grated radishes
2 teaspoons salt
1 clove garlic, minced
1/2 red onion, chopped
1 egg, beaten
1/2 cup Italian seasoned bread crumbs
1/2 teaspoon ground black pepper
1/2 teaspoon paprika
1/2 teaspoon chili-garlic sauce
1 1/2 cups vegetable oil for frying
Place the daikon in a large bowl and sprinkle with the salt. Refrigerate for 30 minutes.

Drain daikon. Stir in the garlic, onion, egg, bread crumbs, pepper, paprika, and chili garlic sauce. Mix well. Form into 8, small round patties.

Pour oil into a large skillet. Heat over medium heat. Fry patties in the hot oil until firm and nicely brown, about 3 minutes per side. Drain on paper towels.
Sweet Potato Fries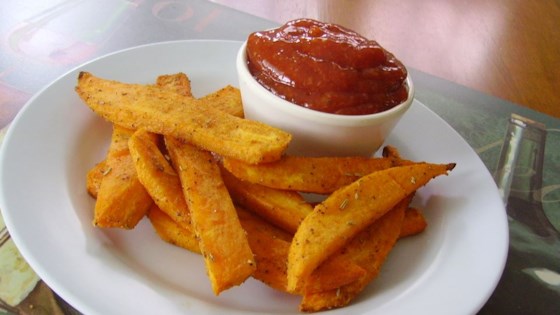 2 large sweet potatoes, peeled and cut into French fry-size pieces
1 tablespoon olive oil, or more if needed
2 tablespoons minced fresh rosemary or more to taste
coarse sea salt and black pepper to taste
Preheat oven to 425 degrees F (220 degrees C).

Toss sweet potatoes, olive oil, rosemary, salt, and pepper together in a large bowl until evenly coated. Arrange sweet potatoes on a baking sheet.

Bake in the preheated oven until tender, 20 to 30 minutes.