<< Back to main
Spring CSA Newsletter Week 9
Posted 4/3/2017 11:44am by Caroline Cicatko.
Check Out What's In Your Share
Traditional Regular Share~
Asparagus, Beets, Green Garlic Tops, Kale, Strawberries
Traditional Large Share~
Asparagus, Beets, Green Garlic Tops, Kale, Strawberries, Cabbage, Jar Good, Yellow Onions
Item of the Week: Asparagus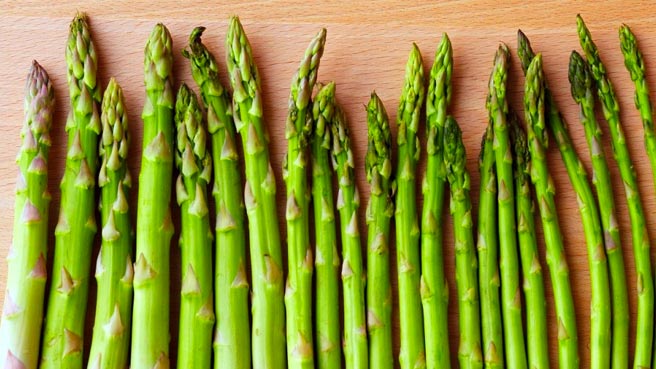 Asparagus is extremely low in calories, being at only about 20 calories per serving. It can be eaten raw or cooked. It may come as a surprise to some to know that there are three varieties of asparagus: American and British, which is green; French, which is purple; and Spanish and Dutch, which is white.
Asparagus is an excellent source of vitamin K, folate, copper, selenium, vitamin B1, vitamin B2, vitamin C, and vitamin E. It is a very good source of dietary fiber, manganese, phosphorus, vitamin B3, potassium, choline, vitamin A, zinc, iron, protein, vitamin B6, and pantothenic acid.
Don't Let Your Produce Spoil, Here's Some Simple Storage Tips
Asparagus

:

Leave the rubber band around the bunch of asparagus. Trim off the edges. Fill a jar or bag with an inch of water. Store the asparagus upright in

the

container then cover with a plastic bag. Change the water when it starts to look cloudy.
Beets

:

Store in a plastic

bag in the refrigerator; do not wash before refrigerating.



Green Garlic Tips

: Store in the refrigerator where it will store for 5-7 days.
Kale:

Store kale unwashed in the coolest part of the refrigerator.

Strawberries

:

Wash and cut off the stems of the

strawberries

and store in a container for up to a week.
Cabbage

: Store in the refrigerator; do not wash until ready to use.
Yellow Onions

: Store in a cool, dark and dry place

such as in a basket in the pantry.
Yummy Recipes for Your Fresh Produce
Breakfast Asparagus Quiche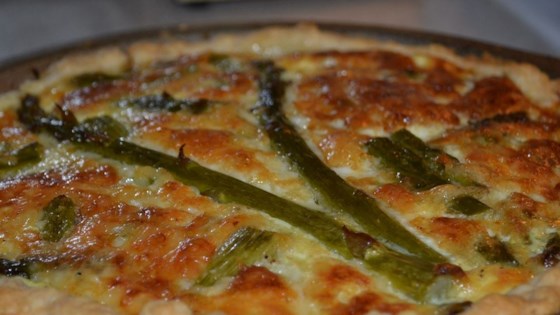 1 pound fresh asparagus, trimmed and cut into 1/2 inch pieces
10 slices bacon
2 (8 inch) unbaked pie shells
1 egg white, lightly beaten
4 eggs
1 1/2 cups half and half cream
1/4 teaspoon ground nutmeg
salt and pepper to taste
2 cups shredded Swiss cheese
Preheat oven to 400 degrees F (200 degrees C). Place asparagus in a steamer over 1 inch of boiling water, and cover. Cook until tender but still firm, about 2 to 6 minutes. Drain and cool.

Place bacon in a large, deep skillet. Cook over medium high heat until evenly brown. Drain, crumble and set aside.

Brush pie shells with beaten egg white. Sprinkle crumbled bacon and chopped asparagus into pie shells.

In a bowl, beat together eggs, cream, nutmeg, salt and pepper. Sprinkle Swiss cheese over bacon and asparagus. Pour egg mixture on top of cheese.

Bake uncovered in preheated oven until firm, about 35 to 40 minutes. Let cool to room temperature before serving.
Chard Stalks and Garlic Scape Pasta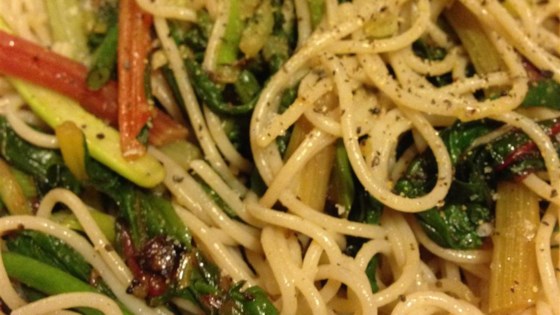 1 cup Swiss chard stalks, cut into 1/2 inch pieces
1 (5 ounce) package dry vermicelli pasta
1 tablespoon butter
1 tablespoon olive oil
1/4 large onion, chopped
2 garlic scapes, sliced
salt and pepper to taste
Bring a large pot of lightly salted water to a rolling boil. Cook the Swiss chard stems in boiling water until tender, 10 to 15 minutes; drain and rinse with cold water. Set aside.

Bring a separate large pot of lightly salted water to a rolling boil. Cook the vermicelli pasta in boiling water until tender yet firm to the bite, 4 to 5 minutes; drain.

Meanwhile, melt the butter with the olive oil in a large skillet over medium heat; stir in the onion and garlic scapes. Cook and stir until the onion is soft and translucent, about 5 minutes. Increase heat to medium-high, stir in the chard stalks, and cook until the onion has browned, about 5 minutes more. Season with salt and pepper; stir in the cooked pasta to serve.
Kale Slaw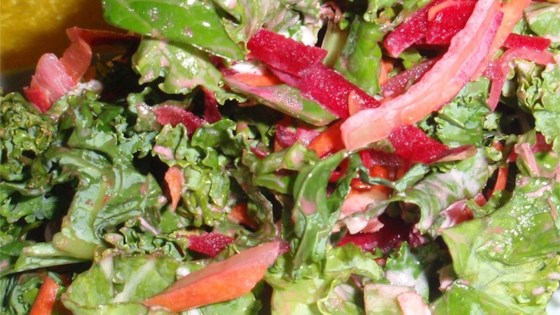 1 bunch kale, stems removed and thinly sliced
1 large carrots, shredded
1/2 orange, juiced
1/2 lemon, juiced
1/2 red onion, sliced very thinly
1 slice cooked bacon, chopped
3 tablespoons mayonnaise
1 tablespoon olive oil
Toss kale with carrot, orange juice, lemon juice, salt, and black pepper in a large salad bowl, using your hands to rub orange and lemon juice into kale leaves. Let stand a few minutes to absorb flavors.

Fill a bowl with ice water. Bring a saucepan of water to a boil and stir onion into boiling water; cook just until starting to soften, 15 to 30 seconds. Drain and immediately immerse onion in ice water. Drain ice water, blot onion dry on paper towels, and add to kale. Stir bacon, mayonnaise, and olive oil into kale mixture and toss to coat. Can be made several hours ahead of time and refrigerated until serving time
Beets on the Grill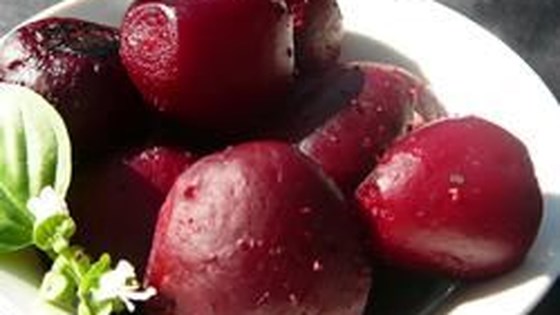 6 beets scrubbed
2 tablespoons butter
salt and pepper to taste
Preheat an outdoor grill for high heat.

Coat one side of a large piece of aluminum foil with cooking spray. Place beets and butter on foil; season with salt and pepper. Wrap foil over beets.

Place packet on the grill grate. Cook 30 minutes, or until beets are very tender. Allow beets to cool about 5 minutes before serving. You don't even need to peel to enjoy!