<< Back to main
Spring CSA Newsletter Week 6
Posted 3/13/2017 10:43am by Caroline Cicatko.
Check Out What's In Your Share
Traditional Regular Share~
Butternut Squash, Rome Apples, Asian Pears, Red Russian Kale, Parsnips
Traditional Large Share~
Butternut Squash, Rome Apples, Asian Pears, Red Russian Kale, Parsnips, Greens, Pink Lady Apples
Item of the Week: Butternut Squash
Butternut squash is one of the most popular modern varieties of hard winter squash. Butternut are known for their long neck and bowling pin like shape. Butternut squash provides vitamins A, C and E, manganese, potassium, soluble fiber and magnesium. Deep orange color squashes are also known to be rich in beta carotene.
The skin is edible when cooked through. It is most often peeled and discarded prior to eating, but when cooked the flesh of the butternut squash is tender and has a mild nutty flavor to it.
Don't Let Your Produce Spoil, Here's Some Simple Storage Tips
Butternut Squash

: Store in a cool and dry spot, butternut squash stays for up to 6 months.
Rome Apples

: Store in a cool dark place, such as in a basket in the pantry or on the counter.
Asian Pears

: Store pears for up to a week at room temperature or 3 months in the refrigerator.
Red Russian Kale

: Kale will last for up to 1 week if wrapped in a damp paper towel and put in the refrigerator.

Parsnips

: Refrigerate in a plastic bag.
Greens

:

Store in the refrigerator, do not wash until ready to use.



Pink Lady Apples

: Store in a cool dark place, such as a pantry or on the counter.

Yummy Recipes for Your Fresh Produce
Butternut Squash with Apples and Cranberries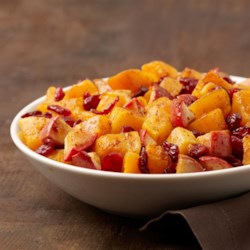 1/4 cup butter, melted
1 pound butternut squash, cut into 1/2 inch cubes
1 medium apple, cubed
1/2 cup dried cranberries
1/4 teaspoon ground cinnamon
1/4 teaspoon ground nutmeg
2 tablespoons firmly packed brown sugar
Preheat oven to 425 degrees F.

Combine all ingredients in 1-1/2-quart baking dish. Cover and bake 30 minutes. Remove cover and bake an additional 15 minutes or until squash is tender.
Smokey Kale Salad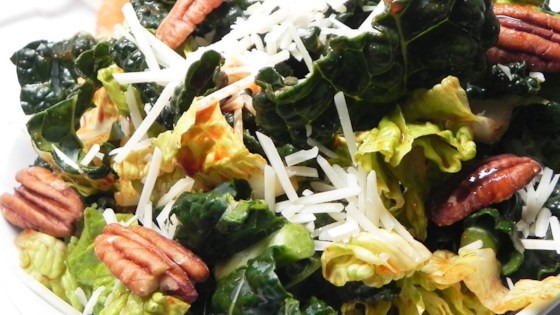 1 bunch green kale, stemmed and leaves roughly chopped
1 bunch red kale, stemmed and leaves roughly chopped
1/2 cup chopped pecans
1/4 cup apple cider vinegar
1 tablespoon honey
1 1/2 teaspoons chipotle pepper powder
1 1/2 teaspoons smoked paprika
1 teaspoon liquid amino acid
1 avocado-peeled, pitted and chopped
Combine green kale, red kale, pecans, apple cider vinegar, honey, chipotle pepper powder, paprika, and liquid amino acid together in a bowl. Massage the kale mixture together using your hands until leaves are evenly coated and starting to soften, about 3 minutes; fold in avocado.
Pear Pockets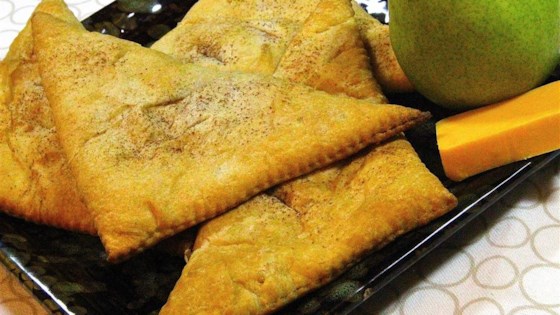 cooking spray
1 (8 ounce) package crescent rolls
1/4 cup peanut butter, divided
1 Asian pear, chopped and divided
1 teaspoon ground cinnamon, divided
1/2 cup shredded cheddar cheese, divided
Preheat oven to 375 degrees F (190 degrees C). Spray a baking sheet with cooking spray.

Combine two crescent roll triangles by overlapping the seams, creating a square. Repeat with remaining dough to form 4 squares total.

Spread 1 tablespoon peanut butter in the center of each square; top each with pieces of Asian pear. Sprinkle 1/4 teaspoon cinnamon atop pear slices; top with Cheddar cheese. Fold one corner of a square over to completely cover the fillings, creating a triangle; seal the edges together. Repeat with remaining squares. Arrange pear pockets on the prepared baking sheet.

Bake on the preheated oven until dough is lightly browned, 10 to 15 minutes.
Parsnip Chips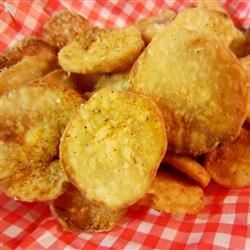 4 parsnips
1/4 cup butter, melted
1/2 cup all-purpose-flour
2 cups vegetable oil for frying
salt
chili powder
cayenne pepper
Peel parsnips and slice into 1/4 inch rounds. Bring a pan of lightly salted water to a boil, and add parsnips. Cook for about 5 minutes, until tender but still crisp. Drain, and cool slightly. Dip slices in melted butter, and place on a baking sheet. Refrigerate until the butter is firm, about 30 minutes.

Heat oil in a large heavy skillet over medium-high heat. Coat parsnip slices in flour, then fry in the hot oil until golden brown on both sides. Drain on paper towels, and season with salt, chili powder and cayenne to taste.